Physiotherapy is a health care profession for the prevention and treatment of injury or dysfunction through a variety of physical means. Its goal is to enhance your well being, educate you about your health and teach you techniques for improved mobility, pain relief, injury recovery and prevention. Physiotherapists are recognized experts in physical rehabilitation. They are specially educated and specifically trained to assess and improve movement and function, and alleviate pain. Our goal is to provide you with an individualized treatment plan designed to deliver fast results, so you can take your health, fitness and sports performance to an advanced level.

The Core Physiotherapists know how to get to the root cause of your problems and excel at treating a vast array of problems including:
Strains and sprains

Back and neck pain (i.e. disk injuries, whiplash)

Age related conditions (i.e. Osteoporosis, Arthritis)

Posture related conditions

Car accident rehabilitation

Repetitive strain/overuse injuries (i.e. rotator cuff tears, tennis elbow)

Chronic injuries (i.e. ITB Syndrome, Carpal Tunnel Syndrome)

Post-surgical rehabilitation (i.e. joint replacement, fractures, ligament repair)

Tendonitis/Bursitis

Nerve injuries/damage

Headaches

Frozen shoulder

Pre and post natal rehabilitation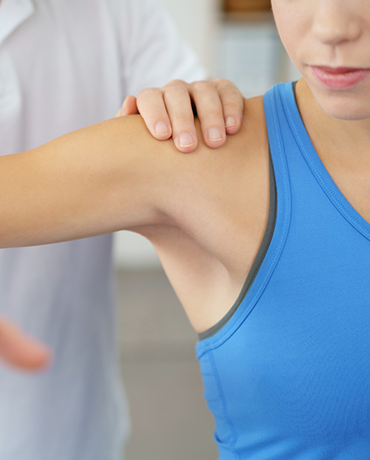 Custom Bracing and Orthotics
Whatever your orthopaedic bracing and orthotic needs may be our physiotherapists will provide a full assessment to analyze your biomechanics and injury to recommend the best bracing or support options for you.
Gait Analysis & Orthotics
Gait analysis is the systematic breakdown of the body's motion during walking or running. Gait is broken down into specific components and phases of body mechanics and muscle activity throughout the movement pattern. It is a useful tool in picking up inefficiencies and imbalances that could potentially lead to or be contributing factors to injury.
Custom made orthotics are designed to correct malalignments and provide support and cushioning to the foot. By altering the angles with which the foot strikes the ground, orthotics help to maintain healthy and pain-free feet as well as contributing to a reduction in lower leg, knee, hip and low back pain.
Shockwave Therapy
is a non-invasive treatment that will help accelerate the tissue healing process and alleviate persistent pain. Shockwave therapy involves creating a series of low energy acoustic wave pulses that are applied to the affected tissue. The bursts are generally uncomfortable but manageable and the temporary discomfort is far outweighed by the gains in mobility and reduction of chronic pain. The great part about Shockwave is that it is designed to trigger the body's own natural healing process and has none of the side effects of more invasive procedures. Shockwave Therapy is used to treat many challenging conditions that often do not respond to other types of treatment including:
Plantar Fasciitis
Achilles Tendinopathy
Heel Spurs
Calcific Rotator Cuff Tendonitis
Scar Tissue
Tennis & Golfers Elbow
Jumpers Knee
Stress Fractures
Chronic Pain Conditions